Forget Trump's tweets – in what must be the most analogue of protests possible, three stained glass artists are contributing their work to residents as part of the Save Cressingham Gardens Campaign.
Their work can be seen during the Open House London event, 22nd & 23rd September – where places of architectural interest open their doors to visitors.
Artists Emma Blount, Jenny Sharp and Rebecca Seedhouse have produced stained glass work that reflects the campaign to save a much loved social housing estate from needless demolition, installing stained glass windows to complement the thoughtful architectural design by Edward Hollamby in the 1960's.
Cressingham Gardens is a high-density, low-rise estate of 306 mixed dwellings, from studios to four bedroom houses, including a block of 12 flats specifically designed for residents with disabilities. Lord Esher, President of RIBA (1965-67) described the estate as "warm and informal… one of the nicest small schemes in England". This estate is a rare, living model for architects, charged with designing well-functioning social housing estates that are enjoyable to live in, to learn from.
1,000 residents of Cressingham Gardens are fighting to save their homes. Residents have presented their own scheme for an additional 37 genuinely affordable homes (at council rent levels) on the site, creating a total of 237 social housing dwellings alongside 100 affordable homes, and costing £7.1million.
By contrast, Lambeth Council wants to demolish the site wholesale, dispersing the entire community, replacing the current mixed buildings with 465 homes, all of which will be more expensive, and costing taxpayers £120million*.
Waiving due process, denying residents the legal right to take a ballot on Lambeth's proposals, the Mayor of London, Sadiq Khan, signed off a demolition funding order on Cressingham Gardens and indeed 33 other estates in Greater London, without recourse to a legally required ballot.
Residents wishing to come back and live in the new flats will face increased costs across all tenures of up to 100% and loss of legal rights.
Residents brought and won a Judicial Review – the Council had acted unlawfully by removing refurbishment options from the consultation. Residents, with the assistance of technical experts, developed and submitted an alternative plan. The People's Plan (273page report) provides significant additional genuinely affordable housing and keeps people living in the homes that they love. Just one day after its submission, this Plan was dismissed by Lambeth officers, and Lambeth Cabinet Councillors reverted to their decision to fully demolish the estate and its community. Best case scenario suggests that the People's Plan was given slight, if any attention, by Lambeth Council, despite being professionally produced.
You can see the latest campaign information here: https://www.facebook.com/SaveCressinghamGardens
More detailed articles can be seen at https://savecressingham.wordpress.com
Contact for Campaign information Andy Plant: 07845 601 153 or email andyplant@lineone.net
*Lambeth Council's own 60 year business plan projects that this £120 million will be recovered; this is through higher rents, full market price sales and a direct grant subsidy from the Council to its for-profit special purpose vehicle. Their projections are refuted as being at best unrealistic and certainly arithmetically opaque.
Current genuinely affordable homes
Of the current 306 homes in Cressingham, there are about 200 'social rent'/temporary accommodation homes, six long term 'voids' (empty properties) and about 100 privately owned homes that are defined by the Campaign as 'affordable' because they have a much lower market value than in the neighbouring streets. The Council has alternative definitions; for example a shared ownership home is officially defined as 'affordable housing' even though it may be priced at normal market rates.

Stained Glass Windows for Cressingham Gardens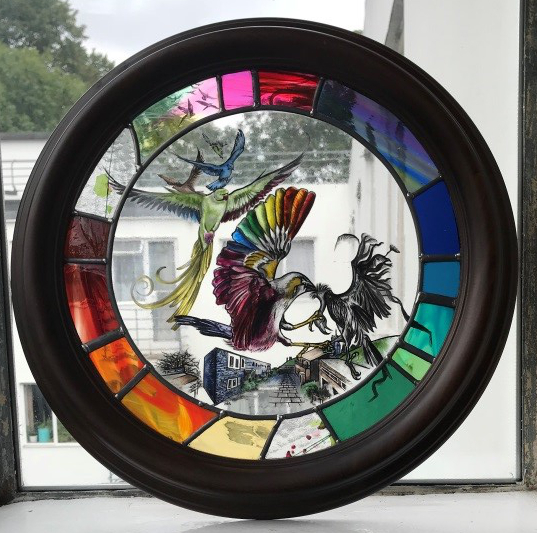 Stained glass birds save Cressingham Gardens
"The central bird, a giant sparrow with multi-coloured wings, represents a member of the diverse community of Cressingham Gardens: an ordinary person who has lived on this estate for years. Made powerful by the support of the whole community, seen in the flock of birds swooping in to join the fight against Lambeth Council. The Council is represented by the dark, gnarly vulture trying to grasp at the houses. The oppressive grip the Council have on the residents of Cressingham Gardens is reversed and immortalised in stained glass".
Emma Blount lives and works in Streatham Hill, designing and making stained glass windows to commission. Recent public work includes a commemoration window for Winston Churchill in St Martin's Church, Bladon, Oxfordshire.
"I have been jogging past Cressingham Gardens for eighteen years. It's beautiful and its home to good, hard working people. I pray not one brick will be removed".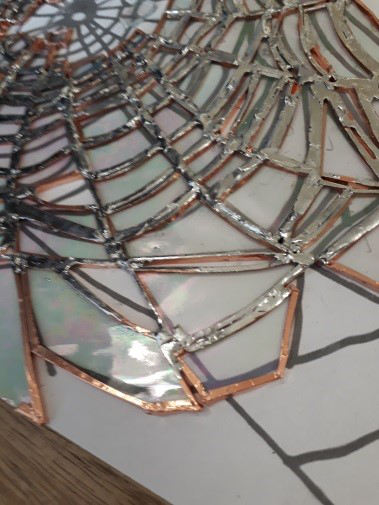 Web of Lies (work in progress)
"The piece depicts the web of misinformation and stickiness of Lambeth Council's behaviour, which has carried on for the last six years. Cressingham Gardens is politically, historically and socially extremely interesting and an important pioneering model of social housing. The residents – the spider – are hanging on by a thread to a web with holes beginning to appear. The holes are a metaphor for the chronic lack of maintenance of the estate, and the continual undermining of residents' well-being as they are no longer secure in their housing".
Jenny Sharp's studio near the Thames Barrier enables her to carry out commission work and teach stained glass classes for beginners. Her work experiments with layering and printing on glass, fusing and slumping to create different dimensions and textures. Recent public work includes a permanent installation at the Colchester Hospital Radiotherapy Centre.
rebeccaseedhouse.com/stained-glass-portfolio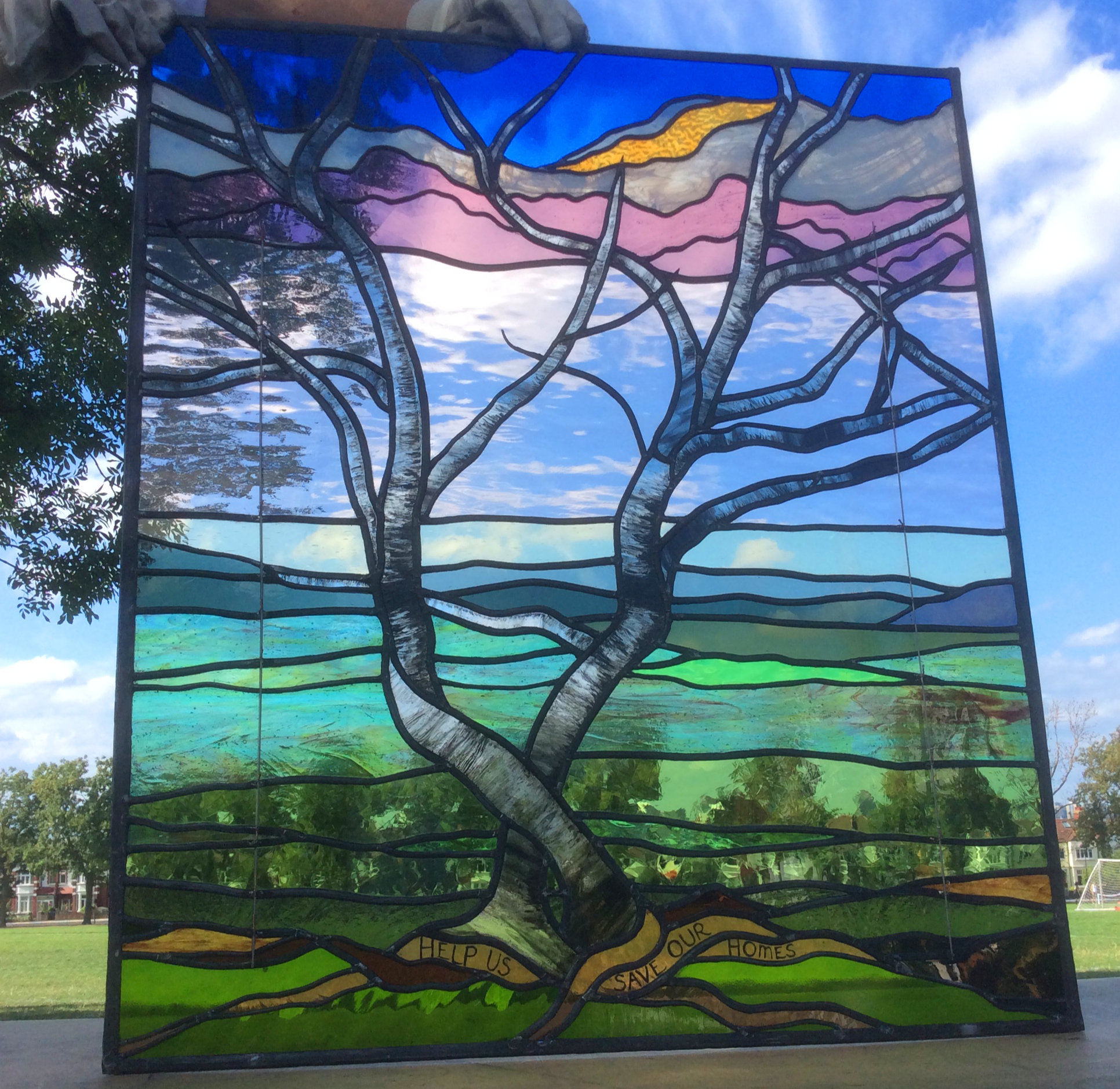 Help Us Save Our Homes: Dancing Trees (work in progress)
"The message in the roots of dancing trees emphasises the point that Cressingham Gardens is full of people and families who have put down deep roots into their homes here. The trees are dancing because Cressingham Gardens is a sensitively designed, happy place to live. Contemporary architects should be taking notes from Edward Hollamby's clever design, not allowing a brazen London Council to bulldoze their way through the estate, and through the lives of all of the people who live there. Lambeth Council's smoke and mirrors behaviour is positively Kafkaesque."
Seedhouse's recent public work includes the Peacock Window at the Watts Gallery Artists'Village in Surrey.